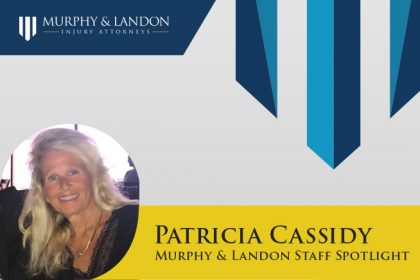 Patricia Cassidy works behind the scenes in the accounting department at Murphy and Landon.  She is the newest employee at Murphy & Landon, starting at the height of the pandemic, and hasn't skipped a beat.  She began her career many years ago in the construction industry and brings years of experience to Murphy and Landon.
Tricia loves working at Murphy and Landon.  She enjoys the relaxed atmosphere and the professionalism of the staff.  She works hard and takes pride in what she does. She enjoys working with the Attorneys and Paralegals in helping with whatever they need from her for their client's needs.
Tricia offers an unlimited amount of support and knowledge.  She is gracious in helping others with their questions and always has a positive outlook.
Tricia enjoys helping people – she believes that helping one person might not change the whole world, but it could change the world for one person. She believes a person's most useful asset is not a head full of knowledge, but a heart full of love, an ear ready to listen, and a hand willing to help others.
When Tricia isn't working, you can find her at the beach, on a boat fishing, traveling, and relaxing with her family and friends.  She has many brothers and sisters, so there is never a dull moment in her life, but her number one priority in life is her son Benjamin; family is everything.
If you or a family member has any legal questions or needs, contact Murphy & Landon for a free consultation:  866-939-8100 or 302-472-8100.