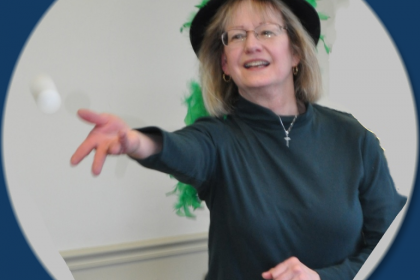 Deb joined the Murphy & Landon team on Jan. 2, 2005 and has been a valued and critical part of the firm for over 15 years.
She expresses her appreciation that the firm has made it possible to keep us all working during this Pandemic, whether it be a skeleton crew in the office or from home.
While at work, Deb wears several hats with the M & L team. She enjoys all her duties and performs them with the utmost quality!
Deb works most closely with Frank Murphy as his paralegal. Her case load includes working with Civil Defense cases, Patent cases and Plaintiffs' Medical Malpractice cases. If Frank is the attorney on your case, you will get to know her well. She always has time to respond to your requests and to keep you informed about your case.
Deb is always willing to go above and beyond to get things done. Frank teases that she is the "best patent lawyer at M & L," and the out-of-state co-counsel also realize how important she is to the firm. One particular Insurance case she worked on with Frank had a filing deadline on a holiday. After several phone calls with out-of-state counsel and nail biting, the filing was successfully completed at 11:59 pm. She received well-deserved flowers from co-counsel shortly after for her efforts.
Deb also works with the other attorneys and staff when needed, hence the different hats. She thinks she looks good in a hat, which is why she chose the St. Patty's day picture for this spotlight!
Deb is a born and raised Delaware native. All her pets are rescues and she likes to donate; especially during a crisis. She enjoys both dogs and cats but currently has 3 cats. She enjoys gardening and is a very amateur bird watcher. Although winter is not her favorite time of year, she will bundle up and brave the cold to fill the bird feeders!
Deb's mom had Alzheimer's and required extra care for years, and Deb hopes to be able to volunteer with Senior Citizen groups when she retires in the summer of 2021.
Deb is so valuable because she loves a challenge! Murphy & Landon has supplied her with many challenges over the years. She has always accepted them and managed them with flying colors. The firm is lucky to have Deb as a part of its team. If you have the opportunity to work with her on your case, you will soon understand why.