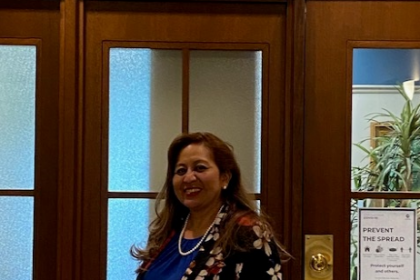 I was born and raised in Elmhurst, NY, near "the City."  I attended Newtown High School, the same school where Estee Lauder studied.  A year after graduating from high school, I was lucky to land a job opportunity with The Guardian Life Insurance Co. located in NYC.
I moved to Delaware in 2006 to provide my daughter a better education and life environment.  Again I was lucky that I was able to be a stay-at-home Mom for about 7 years.  In 2014, I came to Murphy & Landon when I was hired as the firm's Receptionist and Office Clerk.  I graduated in 2015 from the University of Delaware's Continuing Studies Program with a Paralegal Certificate and, in 2016, was given the opportunity by Frank Murphy, Esq. to work as one of the firm's Paralegals.  Special thanks to Debbi Abbott and Judy Nazarewycz for taking me under their wings and showing me the ropes as a Paralegal.  I've been a member of the Delaware Paralegal Association since 2015.
I love to dance and dine out!  I come from a huge family who are all located in NY.  My parents immigrated to this country in the 70's from Guatemala.  I'm very proud of my heritage and Mayan last name Xon, which is pronounced "Shaun."   I'm fluent in English and Spanish, and if you are Latino, you know that Spanglish is almost another language.  If you speak Spanish, you'll likely come in contact with me when you call or visit the firm.
If you or a family member have any legal questions or needs, contact Murphy & Landon for a free consultation:  866-939-8100 or 302-472-8100.