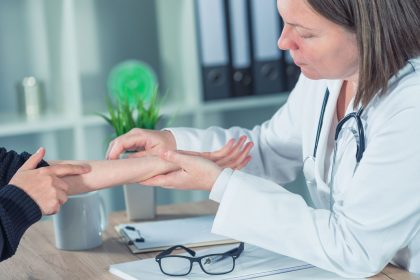 More than 250,000 patients die each year in the United States due to a medical mistake, making it one of the most common causes of death. Many more patients suffer life altering, permanent injuries.
Mistakes that occur before and during surgery can mean that the medical providers committed malpractice. Murphy & Landon attorneys have brought successful malpractice claims against doctors and hospital personnel for these kinds of errors.
Common mistakes related to surgery include these:
1. OPERATING ON THE WRONG LIMB OR ORGAN
Failing to identify the correct surgical procedure, including operating on the wrong body part or the wrong organ is malpractice. Before operating on a patient, the surgical team is required by national standards of care to specifically identify the procedure that is to be performed. According to the Healthcare Cost and Utilization Project, more than 700,000 knee replacement surgeries were performed in the United States in 2012. If the operation involves surgery on the right knee, the surgical team is required to confirm with the patient that the right knee is to be operated on, and then the patient's right knee is identified as the surgical site, often with a felt tip marker after confirmation with the patient. If there is a discrepancy, the surgical team is required to review the patient's medical chart, including imaging studies done on the knee, to make absolutely certain that the surgery is being performed on the correct limb. Even though the standard of care requires such efforts, there are still medical providers who fail to take all of the necessary precautions and patients suffer the consequences of their avoidable malpractice.
2. INJURING AN ORGAN DURING SURGERY
About 400,000 gallbladder surgeries and about 300,000 gynecological surgeries are performed each year in the United States. If a surgeon injures an organ during surgery causing long term suffering to the patient, it can be malpractice. For example, when a surgeon removing a diseased gallbladder fails to identify and protect the common bile duct and instead causes a permanent injury to the common bile duct, that surgical error can be malpractice. If a surgeon performing a gynecological surgery injures the patient's bowel by cutting it or causing a burn injury while performing dissection that too can be malpractice.
3. ANESTHESIA ERRORS
Perhaps the most common medical mistake in anesthesia involves giving the patient the wrong dose of medication, often during the administration of anesthesia. The causes of dosing errors include a lack of experience and lack of attention. Medication and anesthesia errors can result in malpractice claims.
If you or a family member believe that you are the victim of a medical mistake and/or malpractice by a doctor or other healthcare provider, contact Murphy & Landon for a free consultation and case evaluation.
Murphy & Landon is one of Delaware's premier personal injury law firms, and tries cases in each of Delaware's three counties.
Among the firm's prominent case victories are:
• $100 million jury verdict in Barba v. Boston Scientific Corporation, a products liability trial for the sale of transvaginal mesh products for gynecological surgery
• $3.425 million jury verdict in McLeod v. Swier, a medical malpractice case
• $2 million verdict in a medical malpractice jury trial for surgical error
• $2.8 million jury verdict in Gates v. Texaco, a benzene chemical exposure case
• $4.9 million recovery in Trujillo v. Lee, a workplace accident case
• $5 million recovery in Crowhorn v. Nationwide, a case involving a car insurance dispute
• $1.5 million jury verdict in a medical malpractice/wrongful death case
• $1.5 million recovery in Kadow v. Marino, an auto accident case