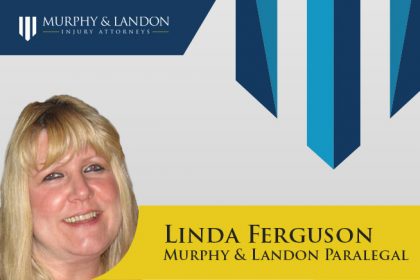 Linda Ferguson began working for Murphy and Landon in January 2002 as a Legal Secretary for Frank Murphy.  At the time she had her Paralegal Certificate from Widener University School of Law Legal Education Institute.  She graduated at the top of her class with an "A" average. A few years later, Linda was promoted to a Paralegal continuing to work for Frank Murphy.  Linda excelled in this position.  As a result, she trains new Paralegals and also trains clerks and Legal Secretaries.  Linda is also responsible for placing ads for non-attorney new hires, reviewing the resumes, interviewing the candidates, and recommending the best to the Partners.
Linda goes above and beyond to get her work done.   She strives to do her best.
While working fulltime, Linda went to school at night and obtained her Bachelor's and Master's degrees in Criminal Justice.  Again, she graduated at the top of her class and maintained an "A" average.  Linda totally enjoys working in the legal field.  She is a member of the National Honor Society.
When Linda isn't  working, she and her husband Mike enjoy traveling.   They've  been to almost every state in the United States, been to most  Caribbean Islands, the Panama Canal and several other countries.  Her favorites are Hawaii, Alaska, and Ireland.  She and her husband continue to enjoy travel, their favorite hobby.
Linda has a granddaughter who means the world to her.  She tries to spend as much time as she can with her.  She takes her on vacation with her to open her eyes to the world and spend more time with her.   Linda tries to open the world to her granddaughter in every  way possible.
Linda is a dedicated and hard worker, who serves both the attorneys and clients of Murphy & Landon with excellence every day.
For a free consultation with a Murphy & Landon attorney, contact us at:  866-939-8100 or 302-472-8100.