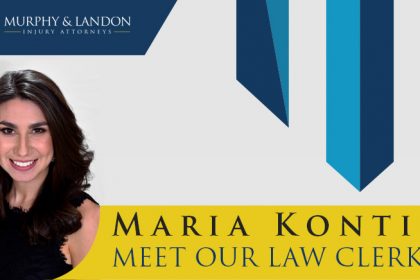 Maria Kontis is a law clerk at Murphy & Landon. She joined the firm in October 2019, when she was a second-year law student at Widener University Delaware Law School. She will be graduating this May.
Maria was born and raised in Wilmington. Before law school, she finished her Bachelor of Science in Neuroscience from the University of Delaware in 3 years. She then went directly from undergrad to law school.
In law school, Maria serves as a student ambassador, working closely with the Admissions Office to welcome incoming and prospective students to her law school. She served as a staff editor on the Widener Law Review in her second year and now serves as the External Managing Editor. Before joining M & L, Maria interned for a Federal Judge in the Eastern District of Pennsylvania where she had the opportunity to research and draft opinions on complex federal issues. This experience solidified her interest in litigation.
Maria is interested in practicing medical malpractice and personal injury law. She is particularly interested in this field as it allows her to use her science background and allows her to gain new knowledge every day. She intends to practice law in Delaware and hopes to sit for the Delaware Bar this summer.
Maria has many responsibilities as a law clerk, including review and analysis of case-related records, extensive legal research, and preparing drafts for motions, briefs, and discovery. She works with all of the attorneys at Murphy & Landon, giving her the opportunity to experience many different areas of law.
When Maria is not in class or working, you can find her learning new recipes. She enjoys baking and cooking. She also enjoys the Jersey Shore and (safely) spending time with her family. A fun fact about Maria is that she was named Miss Dewey Beach 2018. She then went on to compete in the Miss Delaware Scholarship State Competition. The personal platform she advocated for was LEGAL: Let's Educate Girls about Law, focusing on her efforts toward narrowing the gap between the percentage of women and men in the legal profession.