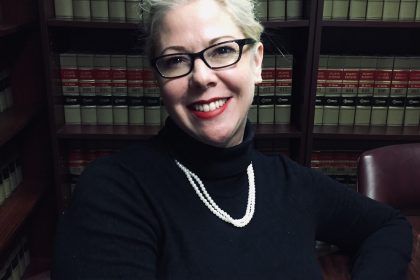 Judy Nazarewycz has been a paralegal at Murphy & Landon since 2016.  Prior to coming to our firm, Judy worked in the Delaware Department of Transportation.  Since coming to Murphy & Landon, Judy has proven herself a valuable member of the team.
Judy is thorough.  Part of the role of a paralegal is to make sure that information is requested, received and organized in a manner helpful to the case at hand.  Judy performs these tasks with ease. She often goes above and beyond by performing additional research and coming up with ideas for additional requests, which often lead to useful information in the case.
Judy is tech-savvy.  Have a photograph of the collision stored on your phone, but no understanding of how to retrieve it?  Need to send information electronically?  Need to gather information from your Facebook page?  She can help!
Judy is engaging.  Clients often comment that they find that Judy carefully listens when they speak to her.  She asks clarifying questions and strives to fully understand their concerns.   She is easy to talk to and welcomes client calls.
Judy has not-so-hidden talents.  Judy has lived in Delaware for 40 years.  She is the proud mother of two graduates of the Appoquinimink School District and has interests in long-distance running, landscaping and caring for her cats, who often take Zoom calls with her.  Her not-so-hidden talent is baking a wide array of cakes, cupcakes and other specialty baked goods, which she generously shares.
Judy Nazarewycz is a paralegal working on personal injury cases, including auto and trucking collisions, falls, sexual abuse, nursing home negligence and medical malpractice cases.
If you have been injured, you may be entitled to compensation for your injuries, medical bills and time lost from work.  Attorneys at Murphy & Landon serve clients in all three counties in Delaware: Sussex, Kent, and New Castle.  We also serve clients in Southeastern Pennsylvania, New Jersey, and New York.  Contact Murphy & Landon, injury attorneys, at 866-939-8100 or 302-472-8100. for a free consultation.