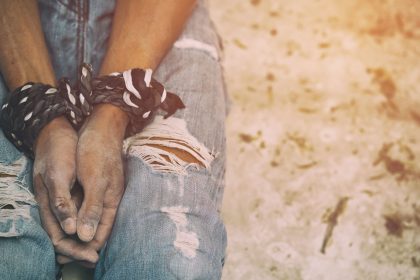 Human trafficking is defined as the trade of humans for the purpose of forced labor, sexual slavery, or commercial sexual exploitation.  We have long heard of human trafficking occurring throughout the world, but many considered the United States as less vulnerable to this terrible abuse of human rights.
That is no longer the case.  Human trafficking exists everywhere, and the United States is no exception.  Human trafficking has been reported in all 50 states, and the number of victims in the United States is estimated in the hundreds of thousands.
Human traffickers recruit out of schools, online, in shopping malls, in the streets, and at other locations. A large percentage of the people trafficked are women and children. Many of them are used in the sex industry. They may be the prostituted people on the street or in private homes, and in legitimate businesses such as restaurants, truck stops, farms, and motels. They need to be identified and recovered.
Delaware has made some strides in combatting human trafficking.  The Delaware General Assembly passed comprehensive legislation in 2014 designed to prevent and penalize human trafficking and to provide protection for victims.  The Delaware Department of Justice has focused on combatting it in recent years. Information can be found at their website at https://attorneygeneral.delaware.gov/human-trafficking/.
Human trafficking victims can be found throughout the State in various businesses and locations, but Delaware is especially vulnerable to human trafficking because of its location on the I-95 corridor.  That geographical fact makes it relatively easy to transport people quickly from one state to another, where they can more easily evade detection and consequences.
One of the areas especially ripe for the transport of human trafficking victims occurs at truck stops.  Victims can either be taken from there, or found there while in transit from one state to another.
There are organizations of truckers that have made a commitment to making a positive difference in combatting human trafficking.  Truckers can serve as the eyes and ears of our highways and, through their awareness and diligence, can make a difference in reporting and thwarting the movement of trafficking victims.
However, this is a responsibility for all of us.  Everyone should become aware of the signs of human trafficking and be prepared to report it.  The National Human Trafficking Hotline is 1(888)373-7888. Knowing the signs of human trafficking and reporting it could save someone's life.
For a confidential consultation with a Murphy & Landon attorney, contact Murphy & Landon at 302-472-8100 or call us toll free at 866-939-8100.