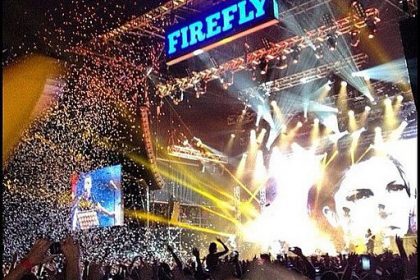 The Firefly Music Festival is coming back this year.  COVID-19 delayed this 4-day music festival in Dover, Delaware last year, and even pushed it from its normal JUNE timeframe to September this year.
On September 23, 2021, the festivities will begin!
But, slow your roll, folks.
First, let's talk TRAFFIC.  We are a small state hosting a pretty big music Festival.
TAKE. YOUR. TIME.
And, take note of the fact that, according to the Festival's website, "DO NOT TRUST YOUR GPS!"
As I said, it is a 4-day music festival.  You will get there.
Here are the listed driving times, according to the organizers:
From Philadelphia – 90 minutes
From Baltimore – just under 2 hours
From Washington, D.C. – 2 hours
New York City, NY – 3 hours.
…I am guessing this is without large volumes of people trying to get a single location.  So please be safe.
Now, let's talk COVID-19.  According to the Festival's website:
You will need to provide proof that you are FULLY vaccinated against COVID-19.
or
Provide proof of a negative COVID -19 test taken no earlier than 72-hours prior to your first entry into the Festival grounds.
The festival's website [https://fireflyfestival.com/safety/] provides all of the requirements and details to keep everyone who attends vigilant and safe.
If you plan on attending, please go to their website and make sure you are ready
Have fun and be safe!
For a free consultation with a Murphy & Landon attorney, contact us at:  866-939-8100 or 302-472-8100.