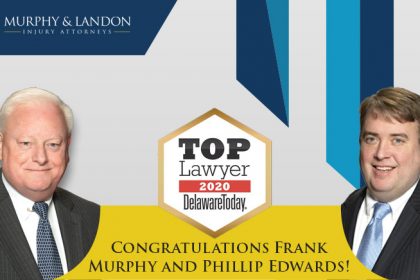 Murphy & Landon congratulates Francis J. Murphy, Esq. and Philip T. Edwards, Esq. for being recognized in Delaware Today magazine's "Top Lawyers 2020. Both attorneys are respected Delaware trial attorneys who work tirelessly to seek justice Tor medical malpractice and personal injury clients.
Attorneys at Murphy & Landon serve clients in all three counties in Delaware: Sussex, Kent, and New Castle. We also serve clients in Southeastern Pennsylvania, New Jersey, and New York.
Contact Murphy & Landon, injury attorneys, at 866-939-8100 or 302-472-8100 for a free consultation.