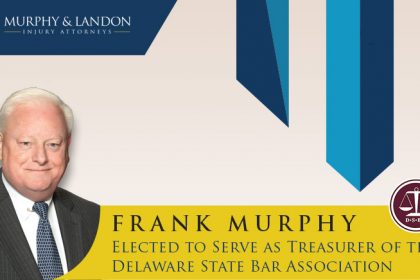 Frank Murphy was recently elected to serve a one-year term as the Treasurer of the Delaware State Bar Association ("DSBA").  The DSBA is the umbrella organization for the lawyers who are members of the Bar of the Supreme Court of the State of Delaware.  The DSBA was founded in 1923 and has a broad mission:
"The purposes and objects of the Association include the following:  the advancement of the science of jurisprudence, securing proper statutory reforms, preserving proper standards for members of the Bar, maintenance of honor and dignity in the profession, upholding principles of legal ethics and professional responsibility, cultivation of fraternal relationship among the Bench and Bar of Delaware, perpetuation of legal history and all such other and proper purposes as befit the practice of law and the proper public perception of the profession.  In addition, it is the responsibility of the Association to speak on behalf of the courts and to preserve their honor, integrity, high standards and proper remuneration, as well as to promote and increase diversity and inclusion in the bar, on the judiciary, and in the profession."
Frank has been a member of the Executive Committee of the DSBA since 2017.  During that time he served as Assistant Treasurer and a member of the Finance Committee.  Among other duties, the Treasurer assists in setting the annual budget for the DSBA, overseeing the organization's finances, reviewing the monthly financial reports, and presenting monthly financial reports to the Executive Committee.   Frank has undertaken a review of the DSBA's insurance needs, and has lead the effort to prepare a written policy for the investment of the Association's operating reserves.