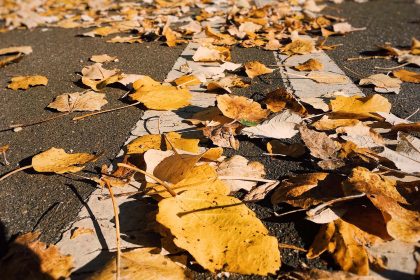 As the foliage changes this fall, many drivers and passengers alike will take time to enjoy the beautiful array of colors. Leaves on the ground are more concerning.
What's hidden in those leaves?  When the road is covered in leaves, it is less visible to drivers.  Lane markings may be less visible. Plus, hidden dangers such as screws, nails and other sharp objects may puncture tires. Be diligent in watching the roadway when driving and make sure your vehicle is adequately maintained to avoid a tire blowout.
Also hidden underneath those leaves may be your vehicle! If you leave your vehicle parked outside, be sure to remove fallen leaves before driving. Leaves flying off of your vehicle may reduce your visibility and be a distraction to other drivers around you.
Slippery when wet. Wet leaves are slippery and may cause vehicles to lose traction with the road. Drive slowly over leaves when the roadway is wet to avoid such problems.
If you are injured this fall, contact Murphy & Landon at 866-939-8100 or 302-472-8100 for a free consultation to discuss how we may help get your bills paid and help you get compensated for your injuries.