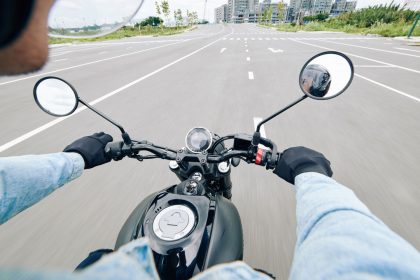 The weather is improving, COVID-19 is waning, and riders are hitting the roads in increasing numbers – figuratively, and unfortunately in some cases, literally.  No matter your experience level, and particularly if you're a seasonal rider (or your mileage has been limited due to the pandemic), taking some time to prepare your bike, body, and mind, will both increase your riding enjoyment and decrease your chances of requiring our firm's services.
Bike:
Every motorcyclist should conduct pre-ride inspections, but if your bike has been sitting for quite a while, it's even more important.  Your owner's manual, personal experience, and online forums and owner's groups, are great sources of information specific to your make and model of motorcycle, but in general, critical checklist items include:
Tires: pressure, age/condition, wear pattern, tread depth
Chain/final drive: properly adjusted/lubricated
Lights, turn signals & gauges: properly working, no inop bulbs
Brakes: proper operation, sufficient pad/shoe thickness remaining
Fluids: engine oil, brakes, shaft drive, clutch: proper levels & condition
Running condition: idle set, engine performance, throttle & clutch properly operating
Fuel: if bike hasn't been ridden in a month or more, drain & refill with fresh gasoline unless fuel stabilizer had been added (esp. in ethanol-mandated states like Delaware)
General: If it's supposed to move, lube it! If it isn't supposed to move, torque it!
Body:
A light pre-ride stretching routine concentrating on the neck, back, hips, and legs will enable you to ride longer, in more comfort, and in better control of your motorcycle.  Be sure you're in good overall physical health (including your eyesight), current on any medications, and mindful of any particular dietary needs – over the years, I've had to lend assistance to a few unprepared diabetic riders for instance.  Significant aches and pains or other medical issues can also distract motorcyclists from focusing 100% on the ride, which brings us to…
Mind:
While motorcycling is not inherently dangerous, it's extremely unforgiving of inattention, incompetence, and plain ol' stupidity.  A motorcyclist's attitude dictates how they will react to situations:  one should ride physically relaxed (tense muscles don't work fluidly), while also maintaining constant vigilance to identify emerging threats, whether from other vehicles, critters, or road surface/traction conditions.  When riding in traffic, keep your head on a swivel, and use lane positioning to avoid blind spots.  Make yourself easy to see, yet ride like you're invisible. Hi-Viz vests, helmets, or other riding gear adds conspicuity, which is particularly useful in the Spring when motorists aren't yet accustomed to watching for motorcycles.  Take the time to review, maintain, and constantly improve your riding skills, which involve the brain much more than the body since the physical actions necessary to properly operate a motorcycle, particularly in emergency situations, often run counter-intuitive to our natural instincts (e.g., if "too hot" into a corner, it's best to NOT brake, but to commit and lean further).  If your skills are very rusty, or you're simply looking to improve them to the next level, you could do worse than to take a refresher or advanced course from a well-regarded provider such as the Motorcycle Safety Foundation or Total Control.  And please: roughly 25% of all motorcycle fatalities in the USA involve impaired riders, so NEVER drink alcohol and ride. With 100% of our brain cells fully functioning, we motorcyclists can enjoy the ride and arrive alive.
If you find yourself in need of an experienced motorcycle accident attorney in Delaware, Pennsylvania, New Jersey, or New York, contact Murphy & Landon at 866-939-8100 or 302-472-8100.