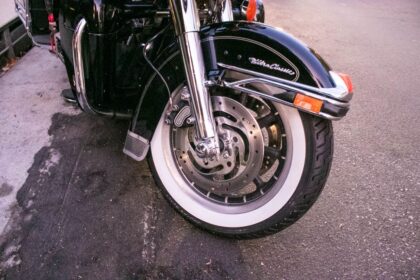 Dover, DE (September 18, 2022) – The Delaware State Police are investigating after a motorcyclist was killed in a crash early Sunday morning. The accident happened just after 1:30 a.m. on Bay Road south of Trap Shooters.
According to an initial report, a 25-year-old female was operating an SUV on Bay Road. The woman was directly ahead of a motorcycle. The SUV driver tried to change lanes to her left. The motorcycle then struck the SUV from behind while it changed lanes. The rider, a 25-year-old old male from Pennsylvania, suffered critical injuries in the crash. He was pronounced dead at the scene. The man's identity has not been released. The SUV driver, who was also not identified, was not injured in the accident.
The collision caused the road to be closed for about three hours while an investigation was conducted. Troopers have not said if any charges are expected to be filed. Neither alcohol nor drugs played a role in the collision.
There is no additional information available.
We would like to extend our most sincere condolences to the victim's family following this deadly motorcycle accident in Dover.
Delaware Motorcycle Accidents 
Motorcycle accidents in Delaware can be a very devastating event for victims as well as their family members. While many people enjoy riding motorcycles as a hobby or as a main mode of transportation, they certainly come with major risks. When riders are involved in a crash, they have little protection from the force and impact of the collision. They are often thrown from their bikes, which further increases the odds of a major injury. Many motorcycle accidents could be prevented and are caused by the actions of negligent drivers on our state's roadways.
Following a Delaware motorcycle crash, you may be struggling to move forward. If your family member was tragically killed in the accident, you may wonder how you will proceed with your future. Under Delaware law, injured victims and their families may have valuable legal rights. In the case of a fatality, family members can bring a wrongful death claim under our state's wrongful death statute. These claims are complicated, however, and should only be attempted with the assistance of a skilled and experienced lawyer by your side.
Here at Murphy & Landon, our team knows what it takes to get the job done. We have decades of combined experience helping injured victims and family members during their time of greatest need. When you have been affected by another person's negligence, we are here to help. We can assist you in getting the compensation that you need to secure your future.
Our team is here and ready to take your call at any time. Our consultations are always free for all potential and prospective clients. During the consultation, we will go over your options in detail and help you choose the best path forward. To schedule your time to speak with a Delaware motorcycle accident lawyer, please reach out to us at the link on our website or give us a call at (302) 472-8100.
Note: Our law firm utilizes secondary sources to create this post. The facts surrounding this specific accident have not been independently verified. Contact Murphy & Landon if you locate any inaccurate information. We will update the post right away to reflect the most accurate information available.
Disclaimer: None of the information in this post is intended to be legal advice or medical advice. This is not a solicitation for business. If you have been injured in an accident, get medical attention as soon as possible. The photo used in this post was not taken at this accident scene.