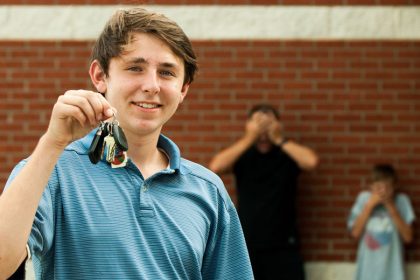 When you come to the realization that your teenager is going to be driving soon, it can cause a bit of anxiety on both the parents and teen.  To help ease some of that anxiety, try to always be calm and have patience with your soon to be new driver.
Talk with your teen before getting behind the wheel about the risks of reckless and distracted drivers. Have an open discussion with then so they can feel comfortable asking questions about the rules of the road and the controls of the vehicle.
Try to remember to give your teen helpful tips, guidance, and positive reinforcement.  It will be beneficial to both you and your teen to practice driving in an empty parking lot as often as possible.  This will give comfort to both of you as they get familiar with the controls inside the vehicle, as well as working on their driving skills.
Another helpful tool is to keep your emotions in check and expect that your teen is going to make some mistakes.  The more practice they have, the better you both will feel about them navigating the roadways.  The continued practice will help your teen become more aware of mistakes that other drivers may make on the roadways and help increase their ability to use good judgment.  This awareness can potentially help avoid an accident. Remember: Practice makes perfect. That, and your patience and encouragement, can make a positive difference in your teen's comfort and safety on the roadways.
For a free consultation with a Murphy & Landon attorney, contact us at:  866-939-8100 or 302-472-8100.