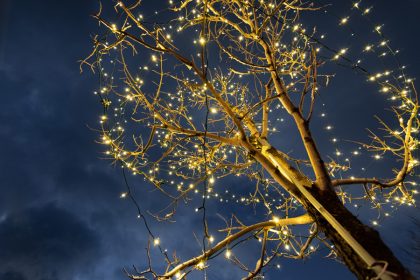 With the holidays upon us, life becomes busier and busier.  We all have more to do preparing meals, shopping, and welcoming guests.  Everyone is relieved and grateful that the pace this year will be more normal than last year for most of us.  However, it's important not to let the pace of the holidays keep us from exercising caution while we enjoy the festivities.
The holidays bring family, food, and fun, but can also subject us to hazards that we may not think about when we're busy.  There may be more people around and more small children to watch, especially if there's a lot of cooking going on and hot surfaces that may tempt them.
More lights – indoors and out – can cause electrical hazards.  Nobody wants to mar a holiday with a shock or a fire caused by faulty wiring.  It's important to make sure that the equipment we use is safe and in good working condition, so look it over carefully before using it and replace it if you're unsure that it's safe.
Likewise, some of us may use fireplaces that haven't been used in a long time.  They certainly set the mood for a cozy meal or a family gathering, but building a fire in a fireplace that hasn't been used in a long time can be dangerous.  Make sure you have your fireplace inspected and cleaned if you haven't used it for a long time.  And remember, chimney cleaning services get booked before the holidays, so don't wait too long to get an appointment.  Sadly, every year, we hear stories about fire tragedies at the holidays.  You don't want a fire to ruin your holidays and threaten your home and family.
Enjoy the holidays this year.  But, remember that being alert to potential holiday hazards is important to making sure that you enjoy the holidays safely.  
For a free consultation with a Murphy & Landon attorney, contact us at:  866-939-8100 or 302-472-8100.