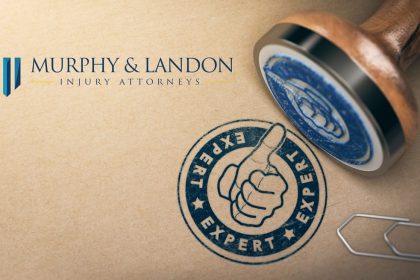 Hi, I'm Roger Landon. One of the lawyers at Murphy and Landon and Wilmington, Delaware. We're an injury firm and we represent people who were injured in automobile accidents among other things I'd like to talk to you today about what happens when somebody from out of state comes into Delaware and has the unfortunate experience of getting injured in a motor vehicle accident in Delaware. What I want to talk about is the advisability of retaining Delaware council, right away in this situation, where an injury claim is going to be made as opposed to retaining counsel from your home state.
I'd also like to offer a couple of tips about how to go about finding a good lawyer in Delaware to do that for you. So first things first, Delaware's a small state. We do have interstate 95 running through the top of the state and route one running north south, so we have folks from all over the country that could cruise through Delaware all the time. Now you may be from California, Colorado, Alaska, Maryland, New Jersey, coming to visit someone in Delaware or just passing through on your way to somewhere else in a situation where you're unlucky enough to be the victim of somebody else's inattention or recklessness in driving their automobile and the crash into you and you're hurt.
If you're hurt to the extent that you believe you need to make a claim for compensation for your injuries you're going to enter into the insurance system. Essentially the civil justice system sort of revolves around the insurance system and in a situation where it happens here in Delaware, you're going to be at a distinct advantage if you can reach out and find a competent injury attorney in the state of Delaware to help guide you through the process.
Ultimately, most of these claims types of claims get resolved well before a trial, but sometimes lawsuits have to be filed. And in the event that a lawsuit has to be filed to sort of force the issue. Then the lawsuit most likely is going to have to be filed in Delaware, depending on where the other driver is from. And that lawsuit is going to have to be filed by a Delaware lawyer. Anyway. So ultimately in many of these cases, even if you were to retain counsel from your home state, that lawyer is going to have to partner with a Delaware lawyer to pursue the claim if a lawsuit has to be filed, but there's other reasons to go with a Delaware lawyer right away anyway, and that really has to do with:
knowledge of the jurisdiction
knowledge of what juries do
knowledge of what cases generally settle for
the overall knowledge as to how the claim gets shepherded through the process
Because the insurance companies, for the most part are major nationwide insurance companies, there's ball, state, nationwide, Geico, USAA, Liberty mutual. We all see the commercials on TV. Those folks are professionals. They hire professional people to be their claims handlers, and they have a lot of experience in every single jurisdiction.They know what the tendencies of juries are. They know what the tendencies of judges are, and they know what case values are in those jurisdictions.
You on the other hand is the injured person. Hopefully this is the only time you've had such a claim in your life. And so you're really at a, put it a bit of a disadvantage because you don't have the knowledge that they have. That's why it's important to have a lawyer in the jurisdiction who has at least equal knowledge with the insurance companies as to all of those factors.
Now, ultimately, you're going to try to resolve your case through negotiation, and there's going to be a check written for a, some certain of money and a release signed by the injured party. Once the case has been resolved. And like in any negotiation, you want to be able to negotiate from a position of strength. Strength comes from a number of different avenues in a personal injury claim. Number one, it comes from the likability of the plaintiff, the objectivity of the actual injuries alleged.
Of course the liability involved in the case, we're assuming for purposes of this discussion, that liability is not an issue. And we're just talking about the value of the claim. So th the likability of the injured person is something that is certainly taken into account by the insurance companies and trying to figure out what a fair settlement value is.
Another important aspect of what the insurance companies do is they look at the quality of the legal representation that person has, because they want to know whether this particular lawyer is a real trial lawyer who actually tries cases who has actually had success in front of juries, trying cases, or is this on the other hand, on the other extreme and paper lawyer who settles everything. And the insurance companies know that when push comes to shove, they can low ball the lawyer on the number.
Obviously in that situation, the client does not make out as well as the client could. If the client had a real trial lawyer with the reputation that he or she will try the case. So you want to, you want to be in a position of strength, and that's one way that you increase your strength in being able to negotiate a deal at the end of your case.
Now, there are other instances where insurance companies are rearranging their claims process from time to time, and they may assign adjusters to states where those adjusters do not have any experience. So you might have an adjuster for X insurance company that is used to handling claims in another jurisdiction. Suddenly that adjuster has been reassigned to Delaware. Now, your claim is being handled by an adjuster who has very little knowledge of all of the things that we've talked about.
Jury values, competency of the lawyer, the laws of the particular state. And in that situation, it's important to have a strong lawyer on your side with the knowledge of the locality, to be able to educate that insurance adjuster as to what all of those factors are actually like in Delaware. So that a meaningful discussion can, can take place and a fair settlement can be reached.
So those are just some of the reasons why a Delaware lawyer is really the way to go. If you're from out of state and injured in Delaware.