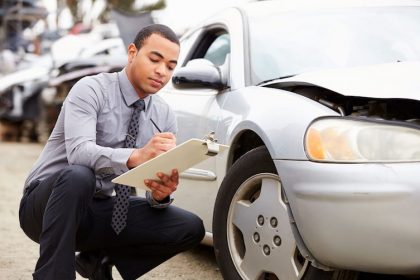 Take a deep breath and move the vehicle to a safe area, if possible.
If you are unable to move your vehicle to the side of the road, due to your physical condition or the automobile's condition, put your flashers on to warn other drivers that you are not moving.
Bring your vehicle to a full stop.
Turn off the engine, make sure the vehicle is in park and put the emergency brake on.
Check on your passengers and other people involved.
Check on your passengers to make sure that they have not been injured.  If you are able to, and it is safe to do so, check on the medical status of other vehicle occupants to determine whether an ambulance is needed.  Even seemingly minor injuries should be assessed by a medical professional.
Call 9-1-1 to report the accident.
When the police arrive, they typically record statements of the drivers, passengers, and witnesses as well as an analysis of potential contributing weather and road conditions. Write down the following information:
Name, address, and contact details
Driver license number
License plate number of the vehicles involved
Auto insurance carrier and policy number for the motorists involved.
If the police can't make it to the scene (which is more likely if there are no injuries), you can file an accident report through the DMV. Write down the following:
Driver and passenger names
License plate numbers
Insurance information
Makes and models of all vehicles involved
Contact information for any eyewitnesses
Location of the accident
The name and badge number of any responding police officers
Document the scene
Take pictures of the location of the collision in addition to pictures of the vehicles involved.
Call your insurance carrier to report the accident.
Contact Murphy & Landon at 866-939-8100 or 302-472-8100 for guidance on filing insurance claims relating to medical bills and lost wages, and for a complimentary consultation regarding a potential injury claim