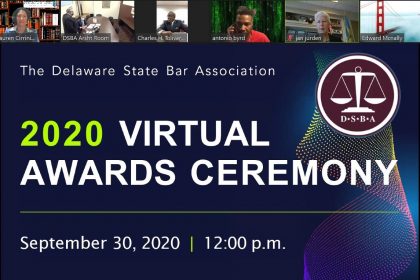 Frank Murphy and Lauren Cirrinicione attended the First Annual DSBA Virtual Awards Ceremony.  The awards celebrate and highlight the importance of service to the community.
Please join Murphy & Landon in congratulating the recipients of this years awards:
Myron T. Steele, of Potter Anderson & Corroon LLP and former Chief Justice of the Supreme Court of Delaware, who received the First State Distinguished Service Award
Samuel D. Pratcher, III, of Pratcher Krayer LLC, who received the Community Service Award, and
Robert F. Gary, of the Delaware Agricultural Land Preservation Foundation, who received the Liberty Bell Award.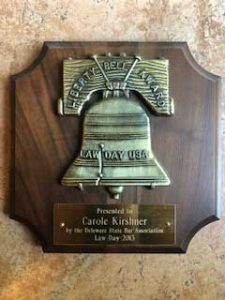 Murphy & Landon is proud to recall that Carole Kirshner of our office received the Liberty Bell Award in 2013 for the contributions that she made over the course of her career as the Court Administrator for the Court of Common Pleas for the State of Delaware.