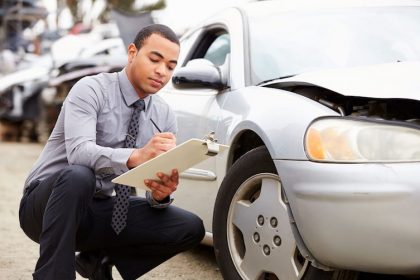 If You Are In A Car Accident Caused By An Uninsured Drunk Driver And You Are Seriously Injured, How Do You Get Your Medical Expenses And Lost Wages Paid?  The Answer: Through Your Own Car Insurance
Have you been seriously injured in a car accident by an uninsured, drunken driver?  If so, the experienced attorneys at Murphy & Landon can help you and your family.
Car Accident Statistics in Delaware
In 2018, there were more than 720,000 licensed drivers in Delaware. That year, 110 people were killed in car accidents in Delaware, and more than 8,000 were injured. Of the fatal accidents, 36% were alcohol related.  About 6% of all car accidents caused personal injuries.
According to the Insurance Information Institute, in 2015, about 11.4% of Delaware drivers did not have insurance. The statistics indicate that more than 80,000 Delaware drivers do not have car insurance.  Drivers who drive drunk and have their licenses suspended or revoked are less likely to have car insurance, particularly if they are repeat offenders.
Personal Injury Protection Benefits and Uninsured/Underinsured Coverage
What can you do to protect yourself and your family financially from the uninsured driver?  One way is through Personal Injury Protection (PIP) benefits with your own car insurer.  Under Delaware law, every policy insuring a car registered in Delaware must have Personal Injury Protection coverage.  Title 18 of the Delaware Code, Section 2118. The PIP provisions in a Delaware car insurance policy include coverage for the following losses:  1) Medical, hospital, dental, surgical, medicine, x-ray, ambulance, prosthetic services, professional nursing and funeral services; and 2) The net amount of lost earnings.  PIP benefits are often referred to as "no-fault" benefits, because your insurance company is obligated to pay them to you, even if you were at fault and caused the accident.  However, PIP benefits can prove vitally important when you are not at fault, especially if the driver who caused the accident is uninsured.
In addition to understanding the losses covered, it is critically important to have the amount of coverage necessary to protect you and your family.  Under Delaware law, the minimum insurance limit for the total of all payments under PIP coverage is $15,000 for any 1 person, and $30,000 for all persons injured in any 1 accident.  Is the minimum coverage sufficient?  Very often it will not be.  What happens if you, your spouse, and your child are seriously injured by a drunk driver while driving home from a school sporting event?  The drunk driver was at fault, but has no insurance and no assets to speak of.  When the other driver is at fault and has no insurance, you will be relying on your PIP benefits for financial protection.  However, given the cost of medical care, it is obvious that the $30,000 in coverage can be exhausted quickly.  And what will you do about recovering lost wages if you are out of work for a year or more?  Therefore, it is vitally important to price higher limits for your PIP coverage with your car insurer.
This point also applies in cases where an accident is caused by a driver who has only the minimum coverage.  When an at-fault driver causes serious injuries to you and your family, and they have only the minimum amount of insurance that the law requires, that insurance will not be able to adequately compensate your family for your losses.  In those cases, you will again look to your own insurance company to provide benefits to protect you.  Knowing your PIP coverage is important.
A second way to protect yourself financially from drivers who are uninsured or have the minimum coverage is to make sure you have adequate coverage in your car insurance policy for uninsured and underinsured motorist coverage.  Under Delaware law, all car insurance policies must offer to provide uninsured and underinsured motorist coverage in an amount at least equal to your liability coverage. You may decline the offer to purchase this coverage, but to do so is not prudent. The uninsured and underinsured coverages in your own policy provide insurance for you and family members in your household if the driver who causes an accident has no insurance, or limits of coverage that are less than the amount of your losses.  It is important to understand the coverages that your car insurance provides, so that you are protected if an accident happens.
Consider Purchasing an Umbrella Policy From Your Car Insurer
Many major car insurance companies offer what are called "umbrella" or "excess" insurance policies, which provide higher insurance limits. An "umbrella" policy can provide additional PIP, uninsured, and underinsured coverage, over and above the limits in your regular car insurance policy.  Even if you have $100,000 or more in PIP coverage under your regular car insurance policy, an "umbrella" policy makes sense for those who can afford it.  Clients are often surprised to learn how relatively inexpensive an umbrella policy can be, particularly when you consider how much additional coverage you receive.  Umbrella policies often provide an additional $1 million to $3 million in insurance coverage.  Often the premium is less than half of your regular car insurance policy.  If you are considering an umbrella policy, make certain that it provides additional coverage for PIP, uninsured, and underinsured coverage, because those are the coverages that often provide the most important financial protections for you and your family.
A Real World Example
How does an umbrella policy work?  Our law firm represented a family in a car accident case where the at-fault driver had the minimum limits of insurance.  One spouse and two children were injured in the accident; one child very seriously.  The seven-figure umbrella policy paid all of the additional medical expenses of the child, and a very substantial sum for the child's pain and suffering.  The umbrella policy made all the difference in the world to the child and the parents.
Murphy & Landon
Murphy & Landon's attorneys try jury cases in each of Delaware's three counties.  The law firm' prominent case victories include:
$100 million jury verdict in Barba v. Boston Scientific Corporation, a products liability trial for the sale of transvaginal mesh products for gynecological surgery
$3.425 million jury verdict in McLeod v. Swier, a medical malpractice case
$2 million verdict in a medical malpractice jury trial for surgical error
$2.8 million jury verdict in Gates v. Texaco, a benzene chemical exposure case
$4.9 million recovery in Trujillo v. Lee, a workplace accident case
$5 million recovery in Crowhorn v. Nationwide, a case involving a car insurance dispute
$1.5 million jury verdict in a medical malpractice/wrongful death case
$1.5 million recovery in Kadow v. Marino, an auto accident case.
If you are involved in a car accident, contact Murphy & Landon for a free consultation:  866-939-8100 or 302-472-8100.