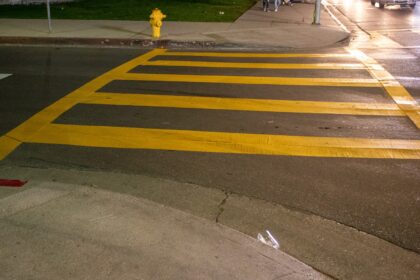 Wilmington, DE (April 12, 2023) – Police in Wilmington have publicly identified a pedestrian who died as a result of a crash in Wilmington on Wednesday, April 5th.
Officials say that Joshua A. Stepler of Felton was walking in the northbound lanes of Route 13 at South Herald Street when he tried to cross the road at approximately 9:20 p.m. As he crossed, Stepler was struck by a 2014 Kia Sorento that was traveling in the northbound lanes of Route 13. Stepler suffered critical injuries as a result of the collision. Paramedics responded to the scene and provided treatment. He was then rushed to a local hospital, where he succumbed to his injuries several days later.
The driver of the Kia, a 24-year-old woman, remained at the scene. She has not been identified at this time. There were no other injuries reported as a result of the collision. The road was closed for over three hours while an investigation was conducted.
Anyone who witnessed the crash or has information is asked to contact the Delaware State Police or Delaware Crime Stoppers. An investigation remains ongoing.
No further details have been released.
We would like to offer our most sincere condolences to the family of Joshua Stepler following this fatal pedestrian accident in Wilmington.
Delaware Pedestrian Accidents 
Pedestrian crashes in Delaware are among the main causes of traffic fatalities. Pedestrians, of course, are very vulnerable to being seriously injured or killed when they are struck by a car. The reasons are obvious, as pedestrians have nothing to protect them from the force or impact of a major accident. To complicate matters, pedestrian accidents normally take place in dark or poorly-lit areas. This gives the victim and the driver very little time to react once a potential crash has been set in motion.
Both drivers and pedestrians should always ensure that precautions are taken. Pedestrians should wear light-colored or reflective clothing and try to walk only in well-lit areas while observing all traffic laws. Drivers should be mindful of their surroundings and be on the lookout for pedestrians, even in areas where they are not normally located. Of course, drivers should also yield at all stop signs and crosswalks to any pedestrians who may be in the area.
When a pedestrian accident occurs in Delaware, it is usually because someone was negligent. In many cases, a driver may be responsible due to their careless behaviors. Police must carefully investigate each pedestrian crash in order to determine the exact cause. Following an investigation, a report will be written with the conclusions of the officer.
Here at Murphy & Landon, we proudly represent accident victims and family members following serious crashes. Our Delaware pedestrian accident lawyers are here for you at all times. We know what needs to be done to help get the compensation that you deserve.
When you have been affected by a Delaware car accident, do not wait to receive legal assistance. We are standing by to speak with you at any time. To schedule your free consultation with a Wilmington pedestrian accident attorney, please reach out to us at the link on our website or give us a call at (302) 472-8100.
Note: Our law firm utilizes secondary sources to create this post. The facts surrounding this specific accident have not been independently verified. Contact Murphy & Landon if you locate any inaccurate information. We will update the post right away to reflect the most accurate information available.
Disclaimer: None of the information in this post is intended to be legal advice or medical advice. This is not a solicitation for business. If you have been injured in an accident, get medical attention as soon as possible. The photo used in this post was not taken at this accident scene.