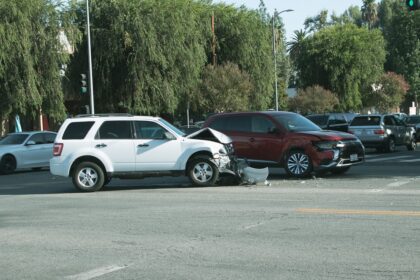 Wilmington, DE (March 4, 2023) – Police in Wilmington were at the scene of a car accident with injuries on Thursday, March 2nd. The crash was reported just before 9:00 a.m. at Kirkwood Highway at the intersection with Milltown Road.
According to a report from the scene, there were multiple cars involved in the collision. When authorities arrived, they discovered at least one person who was hurt in the crash. The victim received treatment at the scene before being transported to a nearby hospital for further medical evaluation. No information has been released on what caused the accident to occur. The road was blocked while police conducted an investigation and cleared the crash site. During this time, drivers were advised to find alternate routes of travel. There is no word on the identity of the victim.
The crash remains under investigation. No additional details are available.
Our best wishes go out to those who were affected by this car accident in Wilmington. We hope for a complete and speedy recovery.
Car Accident with Injuries in Wilmington 
On a per capita basis, Delaware has one of the highest rates in the nation for reported car accidents and injury accidents. In recent years, our state has averaged around 30,000 collisions and approximately 8,000 injuries as a result of these collisions. Approximately 20 percent of all car accidents will result in serious injuries. A serious injury is an injury that involves prolonged hospitalization and treatment and can be life-threatening.
Injuries sustained in a Delaware car accident may linger long past the date of the crash. Even an injury that might seem minor or trivial at first can become nagging and painful later on. Following a crash, it is vital to receive the best medical treatment possible. Seeing a doctor early in the process can help to ensure that your injuries are improving and not worsening.
A large number of car accidents in the Wilmington area are caused by negligent drivers. These drivers break traffic laws and endanger all other motorists through their actions. Under our state's law, a negligent driver can be held accountable for causing an accident. Victims may be entitled to compensation for their injuries.
Here at Murphy & Landon, our Wilmington car accident attorneys will take a tough and aggressive approach to your case. We know that a crash can affect every aspect of your life. We want to make sure that you receive the compensation that you need to get back on your feet. Our lawyers have decades of experience helping the local community and we know what needs to be done when you have been hurt in a crash that was not your fault.
We are standing by to speak with you at any time. Our consultations are free for all potential and prospective clients. When you find yourself in a tough situation after an accident, please reach out to us for assistance. To schedule your free appointment with a Wilmington car accident lawyer, please contact our firm at the link on our website or give us a call at (302) 472-8100.
Note: Our law firm utilizes secondary sources to create this post. The facts surrounding this specific accident have not been independently verified. Contact Murphy & Landon if you locate any inaccurate information. We will update the post right away to reflect the most accurate information available.
Disclaimer: None of the information in this post is intended to be legal advice or medical advice. This is not a solicitation for business. If you have been injured in an accident, get medical attention as soon as possible. The photo used in this post was not taken at this accident scene.