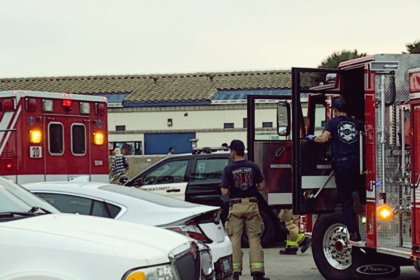 Glasglow, DE (June 29, 2022) — As we reported on Monday, Delaware State Police were investigating a motor vehicle collision that occurred in the Bear area with serious injuries. As of now, it has been reported that one of the parties involved has passed away due to their injuries.
At around 2:55 p.m., on June 27, a 2007 Lexus GS350 was waiting at a red light on westbound Route 40 (Pulaski Hwy) where it intersects with Route 72 within the left lane of two westbound through-lanes of travel.
A 2018 Jeep Wrangler was stopped behind the Lexus, and a 2014 Honda Civic was behind the jeep was also stopped. There was also a 2022 Honda Accord stopped at the same red light within the outside left turn lane of westbound Route 40, waiting to turn left onto southbound Route 72.
While these three vehicles were stopped at the red light, a 2002 Infiniti G35 was traveling westbound Route 40 at a reportedly high rate of speed within the left through-lane of travel, headed towards the location of the vehicles.
The driver of the Infiniti failed to stop their vehicle and its right front struck the left rear of the 2014 Honda Accord for the first impact. This initial impact then caused the Infiniti to spin clockwise in a southwesterly direction when its rear driver's side hit the driver's side of the 2022 Honda Accord.
The Infiniti finally came to a rest facing in a northerly direction in the grass median east of the intersection. The 2014 Honda was also sent spinning clockwise when it hit the right rear of the Jeep. That impact then pushed the Jeep into the rear of the Lexus.
All five of the hit drivers were properly sent to Christiana Hospital where they were treated for minor injuries and later released.
The driver of the Infiniti, a 43-year-old male of Bear, DE, also was sent by ambulance to Christiana Hospital but was later pronounced dead.  Identification of the victim is pending notification to the next-of-kin.
Reports state that the driver of the Jeep did not sustain any injuries from the collision.
All lanes of westbound Route 40 from the entrance of Fox Run Shopping Center to its intersection with Route 72 were closed for 3 hours while the crash was investigated and cleared.
We would like to offer our deepest condolences to the family of the deceased victim at this time. Our thoughts are with all those who have been affected by this accident.
Multi-Vehicle Crashes in Delaware
By law, you may be entitled to compensation for your pain and suffering, lost wages, medical expenses, and other expenditures. The value of your claim is determined by the specifics of your accident and case. If you want to know what your accident claim could be worth, speak with an experienced Delaware car accident lawyer as soon as possible.
Our experienced team at Murphy & Landon realizes how difficult it can be to think of the future and make personal decisions after a car crash. Allow us to put our extensive experience with automobile accidents to good use in your legal battle. We don't mind competing with other insurance companies and can be tough negotiators. We'll do everything we can to get you the best settlement possible.
Our attorneys will review all aspects of your case during your call and help you get compensation for your injuries. If you're interested in finding out what legal options you may have, please contact our team through our website or call (302) 472-8100.
Note: Our law firm utilizes secondary sources to create this post. The facts surrounding this specific accident have not been independently verified. Contact Murphy & Landon if you locate any information that is inaccurate or incorrect. We will update the post right away to reflect the most accurate information available.
Disclaimer: None of the information in this post is intended to be legal advice or medical advice. This is not a solicitation for business. If you have been injured in an accident, get medical attention as soon as possible. The photo used in this post was not taken at this accident scene.