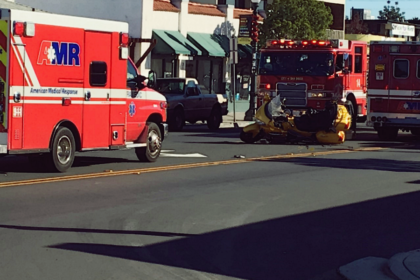 Middletown, DE (Apri 26, 2022) – Police in Middletown were at the scene of a serious car accident in the city on Monday, April 25th. The accident was reported to have occurred around 3:00 p.m. along Summit Bridge Road and Broad Street.
When rescue crews arrived, they discovered that at least one person was injured in the collision. The victim was transported to a local hospital for treatment of undisclosed injuries. There is no update on their condition at this time. Police are still looking into the accident and have not provided any information on how the crash occurred. No one involved has been identified. Motorists were advised to avoid the area while officers investigated the accident.
It is not clear at this time if any charges are expected to be filed. The accident remains under investigation.
There is no further information available.
We would like to extend our thoughts and best wishes to the victims of this car accident in Middletown. We hope for a complete and speedy recovery.
Delaware Car Accidents 
A car accident in Delaware can result in serious and life-altering injuries. According to the Delaware Department of Transportation, our state experienced nearly 50,000 automobile accidents in 2020. This number can be expected to rise in the coming years as our state's roadways become more dangerous with additional population and more drivers on the road. Unfortunately, not all drivers operate their car in a safe manner which can lead to dangerous and devastating collisions when they do occur. While there are certain precautions that can be taken to lower the risk of being involved in an accident, every crash is not preventable.
Following a car accident in Delaware, it is important that crash victims have a complete understanding of their legal rights. If you were injured in an accident and you don't believe that you were at fault, it is important to have a skilled and competent attorney as soon as possible. The other driver's insurance company will probably want to speak with you to get your statement on how the accident took place. It is best to be able to retain an attorney as soon as possible so that you do not have to deal with the stress and frustration of dealing with insurance adjusters. Instead, your focus should be on healing and recovery.
Car Accident Lawyers in Middletown
Here at Murphy & Landon, we take special care to ensure that all of our clients are treated with the utmost respect and dignity. We understand that you are going through a difficult time and we are here to help. Our car accident lawyers in Middletown are standing by to assist and to take your call at any time.
We always provide a free consultation and case evaluation for all potential clients. Following the consultation, there is no obligation to you but we would be honored to help as you experience this difficult time. To schedule your free appointment with a Middletown car accident attorney, please reach out to us at the link on our website or give us a call at (302) 472-8100.
Note: Our law firm utilizes secondary sources to create this post. The facts surrounding this specific accident have not been independently verified. Contact Murphy & Landon if you locate any information that is inaccurate or incorrect. We will update the post right away to reflect the most accurate information available.
Disclaimer: None of the information in this post is intended to be legal advice or medical advice. This is not a solicitation for business. If you have been injured in an accident, get medical attention as soon as possible. The photo used in this post was not taken at this accident scene.